A total of 13 beaches in Hong Kong have been shut down by a palm oil spill from a ship collision that happened in the Pearl River estuary in mainland Chinese waters last Thursday.
Five vital facts:
● Two vessels collided "a few tens of miles" southwest of Hong Kong in the Pearl River estuary last Thursday
● 1,000 out of 9,000 tonnes of palm oil from a cargo ship spilled into mainland Chinese waters and spread to Hong Kong. Only 93 tonnes have been picked up so far. About 200 tonnes were estimated have coated the city's beaches
● A total of 13 beaches have been closed. Marine parks have not yet been affected but authorities earlier said a small amount of the pollutants were found in the Cape D'Aguilar Marine Reserve
● Guangdong province authorities told local officials of the spill at noon on Saturday, two days after the accident. But officials denied there was any delay, contending "it was not known Thursday to Friday that the spill would affect Hong Kong" and that Guangdong authorities only realised it might affect the city after it had begun a clean-up.
● Palm oil is non-toxic, and preliminary government lab results from water samples taken at 11 of the affected beaches showed that oil content in the water was extremely low. But the decaying matter could harm marine life by triggering the growth of algae and fuel red tides when temperatures start to rise next week. If the oil has been contaminated by toxins, it could also harm endangered green sea turtles or dogs who eat it
What we still don't know
● What kinds of vessels were involved? Was the collision caused by negligence or weather?
● Who will pay for the clean-up? Marine pollution law expert Zhu Ling, of Polytechnic University, said information on the ownership of the boats involved would be important to decide which jurisdiction would handle damages claims. Zhu said if the owners were mainland companies, the Hong Kong government could claim damages through the mainland legal system.
● Is it going to get worse? With only 88 tonnes having been picked up so far, it is unknown how much of the 1,000 tonnes of oil remains in the water.
How often has this happened before?
Spills resulting from shipping are fairly common in Hong Kong.
About 493 confirmed oil spills were recorded between 2005 and 2014, according to the Marine Department. Of these, 135 were caused by shipping accidents or refuelling. The causes of the rest were unknown.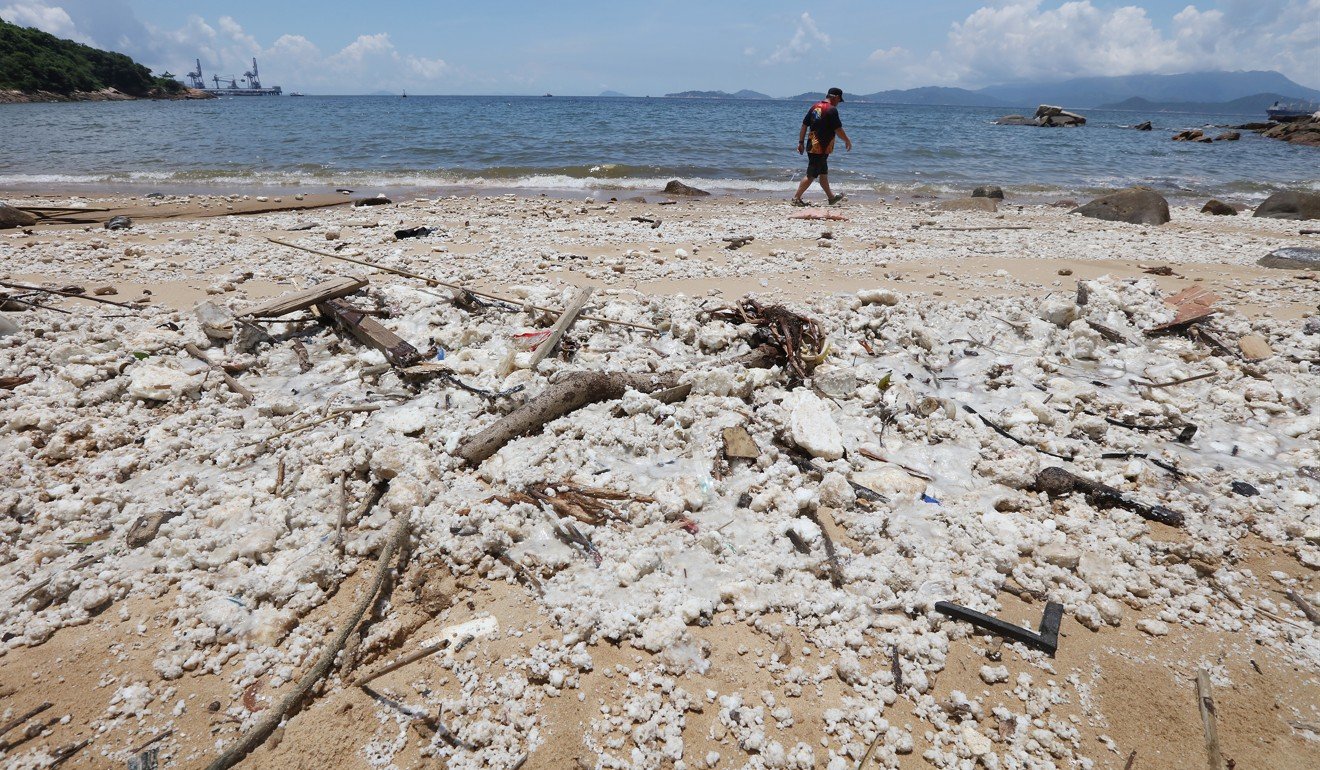 Last May, a 50-metre-long slick was spotted floating off Tsing Yi following a collision between an oil tanker and a mainland-registered cargo vessel.
The city's highest-profile ocean spill happened in July 2012 when seven containers fell from cargo ship Yong Xin Jie 1 as Typhoon Vicente hit the city. Six were loaded with 150 tonnes of plastic pellets that washed up on Hong Kong beaches, sparking concern for marine life.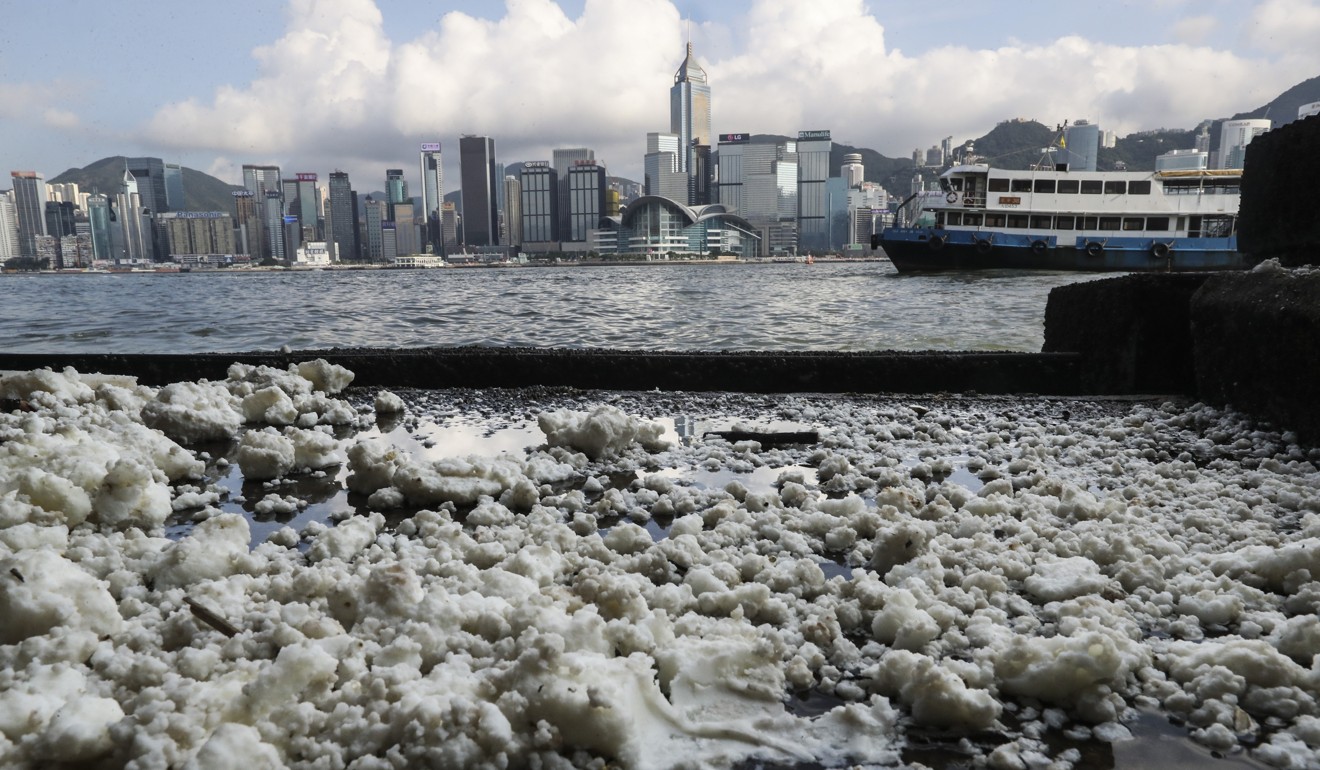 How was the 2012 case handled?
Government departments including those responsible for food and environmental hygiene, leisure and cultural services, agriculture, fisheries and conservation and environmental protection, and the Marine Department, were involved in the clean-up.
The department struck a compensation deal for a massive plastic pellet spill and clean-up in 2014, two years after the incident.
It declined to reveal how much had been paid or who had paid it, citing confidentiality. Officials said the financial settlement was "reasonable, realistic and acceptable".
After the 2012 spill, petroleum giant Sinopec, which produced the pellets in Hainan, took up responsibility and said it had set aside HK$10 million to help pay for the clean-up. It is not known if Sinopec was the party that settled the bill.
Shipping company China Shipping Container Lines, which leased the vessel in question, said it had sent 500 staff, vehicles and speedboats to help with the clean-up, and arranged for divers to collect pellets.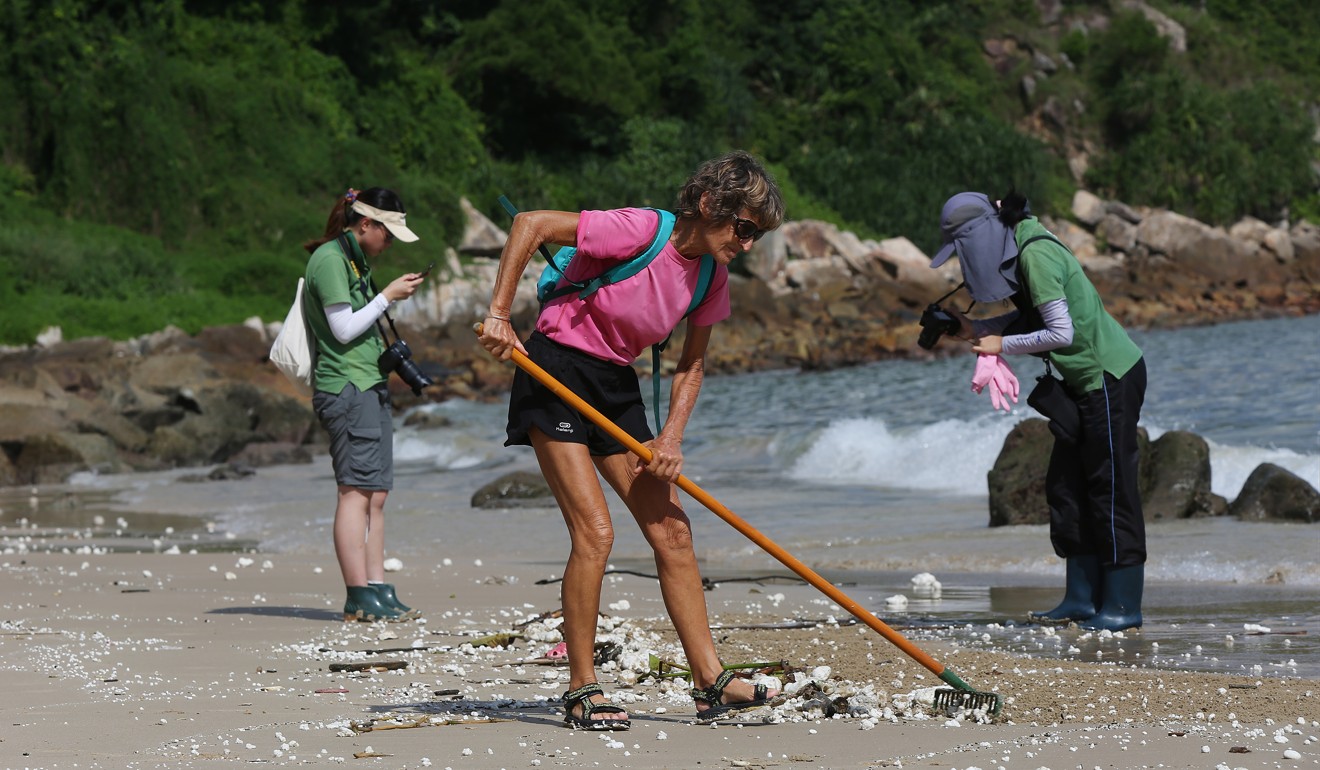 Are oil spills the biggest contributor to marine pollution?
No. Hong Kong has long battled a staggering amount of marine waste on its coastlines.
A total of 12,000 tonnes of floating refuse and 4,000 tonnes of domestic refuse are collected annually, according to the department.
Last year, shocking photos appeared on social media showing some of Hong Kong's most popular beaches covered in large quantities of rubbish.
The waste comprised everything from plastic bottles, disposable cutlery, shoes and children's toys to detergent containers and medical syringes. Most had packaging bearing simplified Chinese characters, indicating they came from the mainland.
The massive influx, the Environmental Protection Department said, was the result of heavy rain and flooding in parts of the mainland that had flushed household waste into the sea, only for it to be carried to Hong Kong by southwest monsoon winds and currents.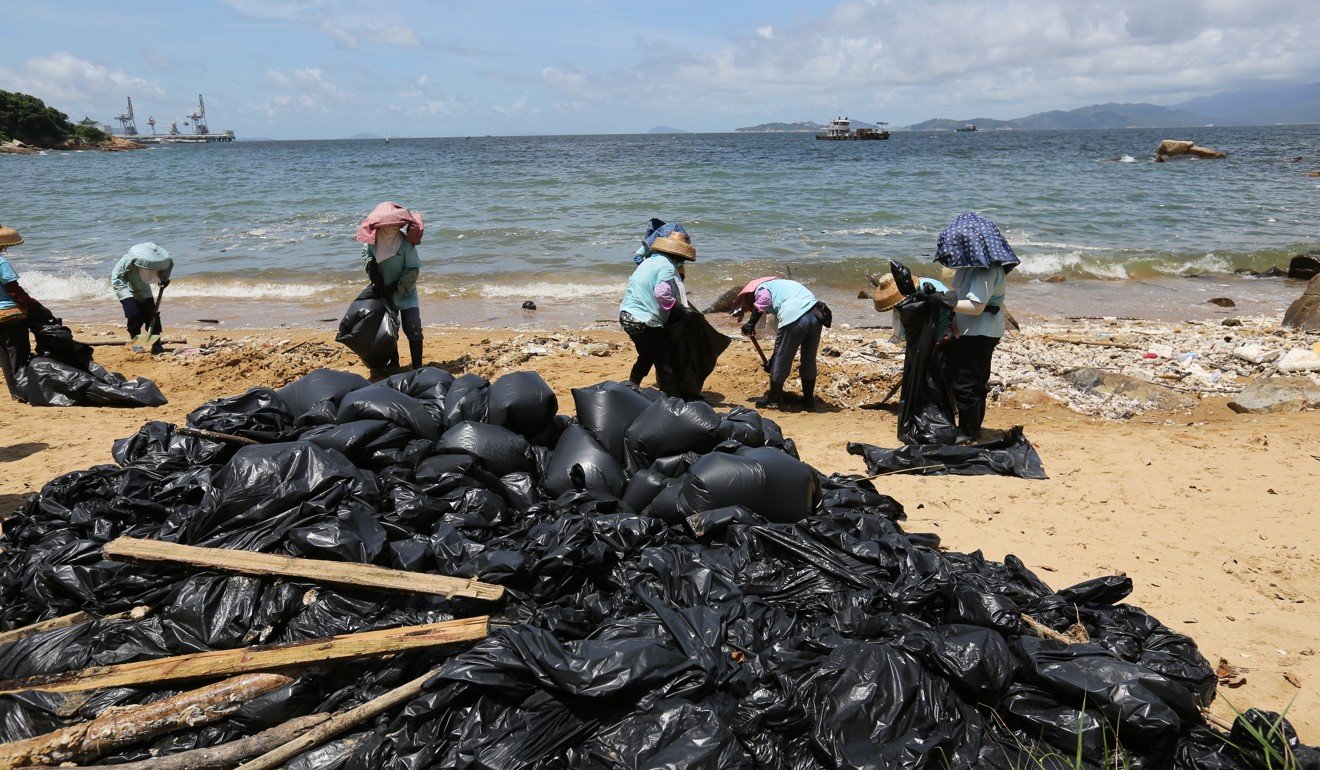 How is the government tackling marine pollution?
Last September, former chief executive Leung Chun-yingsigned an agreement with Guangdong authorities to establish a monitoring and notification mechanism to handle oceanic environment problems, including rubbish drifting across the border.
The mechanism began a trial run in May this year, but it remained unclear what procedures needed to be taken by both sides under varying circumstances.
The Environmental Protection Department said it had informed mainland authorities in May and June about the possibility of large amounts of marine waste appearing in certain areas.
It said the system was still in a trial period and needed to be refined to better predict where and when large amounts of marine refuse would likely appear.
---
The affected beaches
Hung Shing Yeh Beach, Lamma Island
Lo So Shing Beach, Lamma Island
Pui O Beach, Lantau Island
Upper Cheung Sha Beach, Lantau Island
Lower Cheung Sha Beach, Lantau Island
Tong Fuk Beach, Lantau Island
Repulse Bay Beach, Hong Kong Island
Middle Bay Beach, Hong Kong Island
South Bay Beach, Hong Kong Island
Chung Hom Kok Beach, Hong Kong Island
St Stephen's Beach, Hong Kong Island
Deep Water Bay Beach, Hong Kong Island
Turtle Cove Beach, Hong Kong Island
---
The Leisure and Culture Services Department manages 41 gazetted public beaches on Hong Kong Island and in the New Territories. Seven out of 12 public beaches on Hong Kong Island have been affected.
–From South China Morning Post
---
---
Categories: Coastal Clean-Up, Marine Debris, Oil Spill